MEET DAVID LIONEL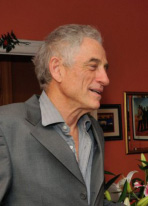 Born in Chicago, Illinois, on August 30, 1944, David Lionel (birth name David Samuel Klorfine) has had a long career covering major social movements as an independent video producer and editor.  Lionel is now making available on-line and packaging as DVDs his series of some twenty WORLD CITIZEN VIDEOBOOKS.  These programs come in four sets: HEROES FOR OUR TIME, HOLISTIC SELF-CARE, SUSTAINABLE COMMUNITY, and GLOBAL DEMOCRACY.
STUDENT.
1965 B. A. Columbia in English cum laude, Phi Beta Kappa
1967 M. A. U. California Berkeley in English
1970 Ph. D. Candidate U. Texas Austin in Radio-Television-Film
FILMMAKER.
In 1976, using a Super 8 silent film camera, David shot The Feathered Serpent, Legendary History of the Man-God Quetzalcoatl.  David edited this forty minute dramatic reenactment on ¾" video and much later added a voice and music track.
VIDEO PRODUCER AND EDITOR.
From 1977 – 2000, David Lionel ran a video production company in Los Angeles.  It primarily produced programs for non-profit clients, who paid to have their events recorded and the resulting footage edited.
The content ranges from natural healing techniques to peace conferences to visionary workshops.  The videos embody a virtual encyclopedia on holistic practices, sustainability, and universal principles for building a world system that works for all.
Some of these productions took place overseas.  Lionel spent three months in the Soviet Union in 1990, producing a video biography on then-Premier Mikhail Gorbachev.  Under contract from the AVN travel video series, he also collected footage and shot interviews for Siberia: An Awakening Giant.
In 1992, Lionel went to Rio de Janeiro, Brazil with his videographer mate to cover the U.N. Earth Summit NGO Forum.  This material remains in rough cut as Planetary Humanity, Charting Our Survival.
In 1996, David took a crew of eight to Istanbul, Turkey, to record at the U.N. City Summit NGO Forum, resulting in Creating Sustainable Cites, A How-To Manual for the Municipal Future.  Another program, deriving from commissioned coverage of a major exhibition there, illustrates EcoVillage Living.
In 1999, he flew to Macedonia to videotape a troupe of amateur clowns led by Patch Adams at the Kosovo refugee camps.  Three minutes went into an NBC TV special hosted by Mike Farrell called "Seeds of Peace."  Lionel later blended in a cable shoot of Patch's one-man show to tell The Patch Adams Story.
BOOK EDITOR.
David has also edited a number of book manuscripts in the self-help and psychotherapy fields.
HOLISTIC HEALTH COUNSELOR.
As an independent video producer and editor, Lionel made several documentaries about therapeutic practices and continued to personally study such methods.  He is qualified to perform reflexology, spiritual mind treatments, and life coaching.
INSTRUCTOR.
David has conducted a number of educational workshops, such as at the Learning Annex, "Camcorder Producing and Editing."  He has screened videos in an instructional context at numerous Expos, consciousness raising events, and U.N. Conferences.
Lionel currently focuses on staging seminars in schools and with civic groups, using interactivating participatory formats connected to screening video shorts.  These sessions enable participants to choose to self-select into affinity action teams to undertake community betterment projects.
NON-PROFIT CHAIRMAN.
In 2010, Lionel revamped his non-profit operation as a Florida corporation, renaming it Transformational Education Initiatives (TEI).  TEI's mission is to edit and distribute worldwide Lionel's twenty WORLD CITIZEN VIDEOBOOKS.  This private operating foundation reflects David's evolving vision of how to best utilize his library of productions to serve an emerging sustainable and compassionate global civilization.
NON-PROFITS CONSULTANT.
Since 2007, Lionel has begun acting as a consultant to non-profit organizations.  He has worked with a number of groups in the Catskills, New York and Sarasota, Florida, to strategize how to achieve their goals and enhance their media outreach.
CONTACT:
Transformational Education Initiatives
David Lionel, Chairman
P.O. Box 344
Phoenicia, NY 12464
(310) 795-4910 Mobile EDT
david@transformationedu.com